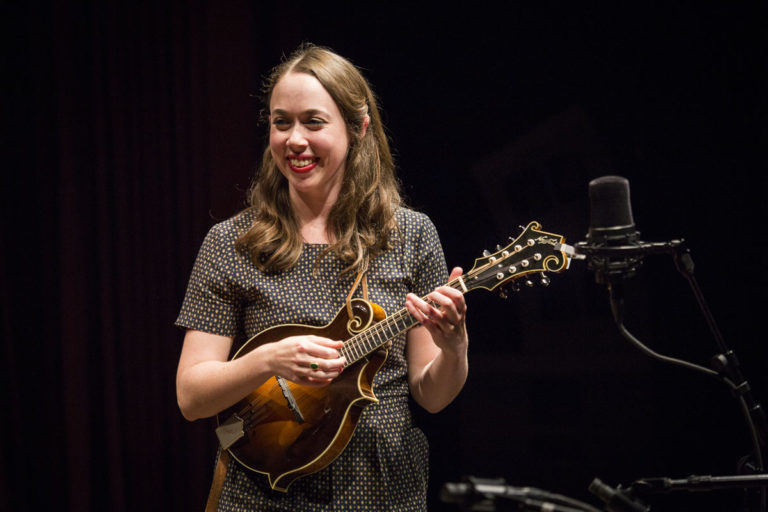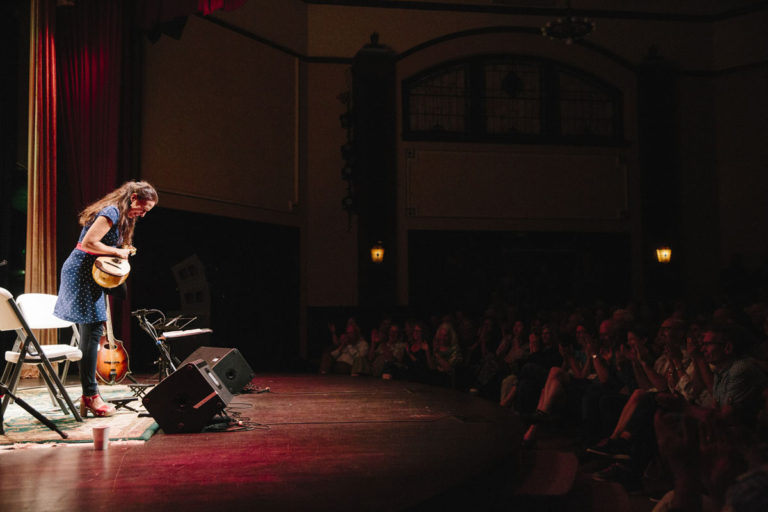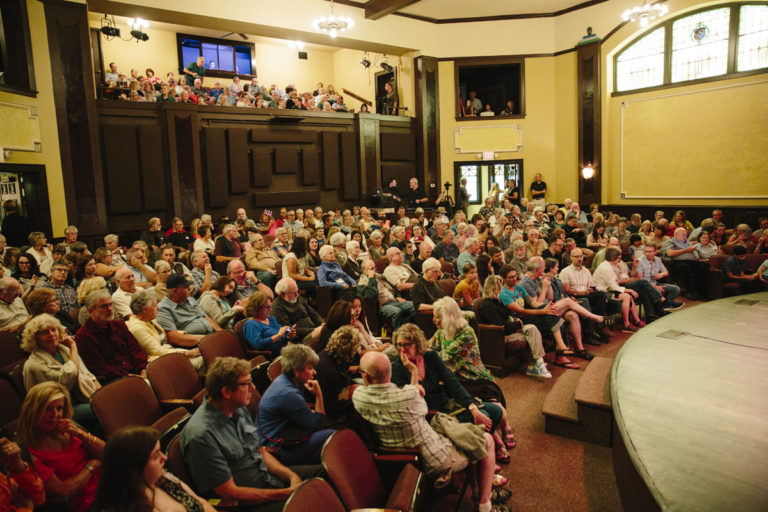 About the Performances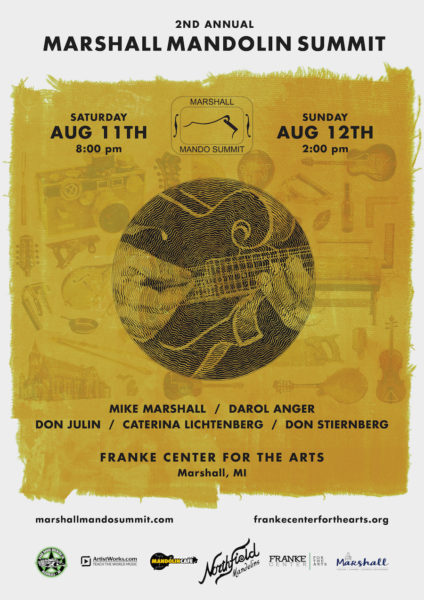 Registration to the Marshall Mandolin Summit includes full access to all performances.
On August 11th and 12th The Marshall Mandolin Summit is proud to present two must-see concerts hosted by the Franke Center for the Arts in Marshall, MI. They will feature world-class acoustic musicians with performances centered around the mandolin. Premier mandolinists from the US and Europe will lead the audience on a sonic journey through the ages and around the globe.
Saturday night's concert will be an amazing musical experience featuring full sets of each artist in a variety of creative configurations. Mike Marshall and Caterina Lichtenberg will take the stage performing everything from Bach to Vivaldi – Bluegrass to Brazilian. Darol Anger will ignite the stage with his fiddle, pulling out all the stops as he and Mike Marshall, "The Duo", celebrate 40 years of making music together. The Don Stiernberg Trio will bring in the swing – laying down the groove that'll have you crooning deep into the night. Don Julin will bring his own creative compositions into the fold. He's a connoisseur of the mandolin with many styles at his finger tips. This is a unique chance to see some of the best acoustic musicians in the world showcasing their mandolin talents and mixing things up in some unexpected collaborations.
Sunday's afternoon concert will feature the Marshall Mandolin Summit Student Showcase. A celebration of three days of classes, jamming and rehearsals goes on display with duos, trios and more in a variety of musical styles and culminates when the 35-person orchestra takes the stage. Each artist instructor will perform a few tunes and then lead the larger ensemble through various arrangements they have worked up during the Summit classes. A mandolin variety show of sorts and a great opportunity to see a lot of mandolins singing in harmony!
More About the Artists
Musical director Mike Marshall is one of the world's most accomplished and versatile string instrumentalists in America today. A true pioneer of progressive acoustic music, at the age of 20 Mike was already touring with Stephane Grappelli and David Grisman and went on to collaborate with Bela Fleck, Joshua Bell, Sam Bush and Chris Thile. Mike has been an ambassador for many international mandolin styles and helped ignite the Brazilian Choro mandolin craze through his own record label, publications and recordings with Hamilton de Hollanda and his group Choro Famoso.
Mike is currently the director of the Acoustic Music Seminar at the Savannah Music Festival, and has his own online mandolin school at ArtistWorks.com.
Caterina Lichtenberg is one of the most important classical mandolinists of our time. Having grown up in Germany and educated through their mandolin system, she brings a fresh historic perspective on the Neapolitan and Baroque mandolins. She currently holds the only professorship of its kind at the Conservatory of Music in Cologne, Germany and her 10+ recordings have set a new standard for classical mandolin playing worldwide. As a soloist Caterina has performed with New Century Orchestra under Nadja Salerno-Sonnenberg, the L.A. Guitar Quartet, the Brandenburgisches Staatsorchester of Frankfurt under Diego Fasolis and with Daniel Hope at the Schleswig-Holstein Muiskfestival. Caterina also teaches online at Artistworks.com.
Don Stiernberg is regarded as a leading exponent of jazz mandolin style. He tours the world performing music that few can handle on any instrument let alone a mandolin. Always a charismatic entertainer, Don's performance is sure to delight as well as amaze as he was mentored under the wing of jazz mandolin great and brilliant 'funny man' Jethro Burns. His trio features Andy Brown on guitar and Jim Cox on bass, both top flight musicians. Their style might be described as swinging interpretation of accessible jazz material played acoustically on mandolin and vocal, guitar and bass. Or in short… Classic Jazz, swung hard and made fun.
Darol Anger is a world-class fiddler, composer, producer and educator, and is right at home in a variety of musical genres, some of which he helped to invent. Exceptional among modern fiddlers for his versatility and depth, Anger has helped drive the evolution of the contemporary string band through his involvement with numerous trailblazing ensembles such as the Turtle Island String Quartet, the David Grisman Quintet, and his Duo with Mike Marshall. He has performed and taught all over the world with musicians such as Dr. Billy Taylor, Bela Fleck, Bill Evans, Edgar Meyer, Bill Frisell, David Grisman, Tony Rice, Tim O'Brien, The Anonymous 4, Marin Alsop and the Cabrillo Orchestra, the Detroit Symphony, Mark O'Connor, and Stephane Grappelli. Darol currently teaches at the Berklee College of Music in Boston as well as online at Artistworks.com
Don Julin has developed a reputation for being one of the most eclectic mandolin players on the scene today. His original compositions have been used by many network and cable television programs including NPR's "All Things Considered", HBO, MTV and VH1 to name a few. In 2012 he authored the critically acclaimed instruction book "Mandolin for Dummies" and has since toured all over the world performing and instructing at many of todays premier festivals and workshops. His discography ranges from straight ahead Bluegrass to Jazz and his keen sense of improvisation is sure to make for a great night of music.